Last weekend, I had a nightmare . I dreamt that my boss called me into his room and handed me a chocolate coin..and said "Sorry, no bonus for you this year so you just have to make do with this!" And I started bawling ..and he felt so bad for me that he sent me home and while in his car, I was still crying like a baby lamenting why why why~

And then I woke up. Anyway, as you all would have guessed..letters were out this week which probably explained why I had such a dream. Maybe it was a good thing because after that, my expectations were really low so I wasn't *that* disappointed with what I got. It wasn't bad nor was it that great either..I guess I just have to work harder and smarter to better prove my worth. Now I just wanna treat myself to something gorgeous..a new bag maybe :D~

And our marketing bash would usually be held after we'd gotten those letters. I guess it was so that people could either celebrate wildly or use that occasion to drown their sorrows :D..Last year's theme was 'Back to School' so most came in their school uniforms looking so prim and proper. This year's was the total opposite with a rock themed party named "Born to be Wild".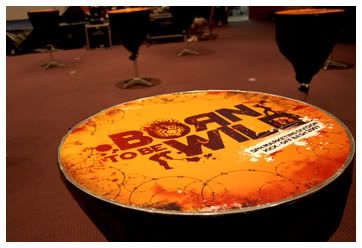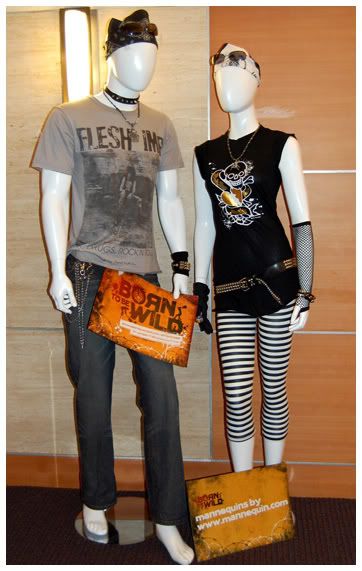 We were even shown examples of the rock dresscode so as to know how to dress on that day!
(clothes kindly sponsored by Flesh Imp)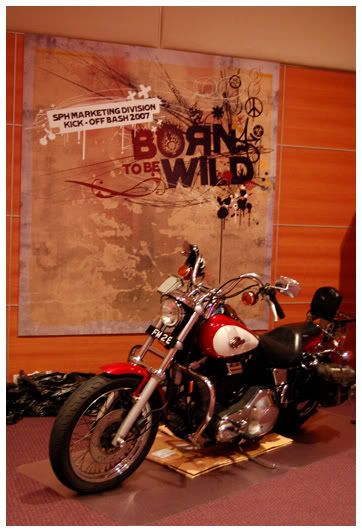 and a Harley photo-taking corner..cool eh!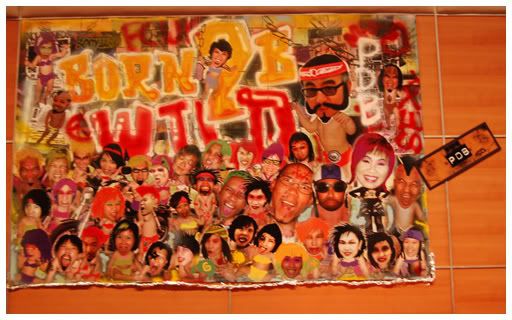 All the divisions under Marketing had to submit a graffiti poster for a contest.
Our team won :D...(hm, let's see if any of you can figure out which is me)
With the kooky marketing folks..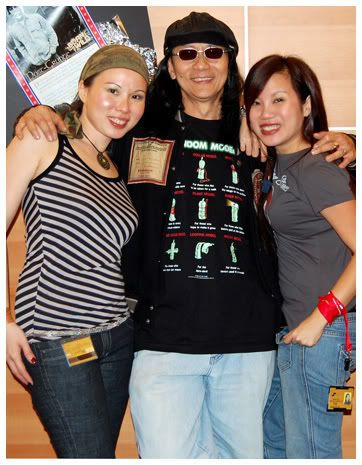 with our boss, Danny who got promoted this year!
We're really happy for him..!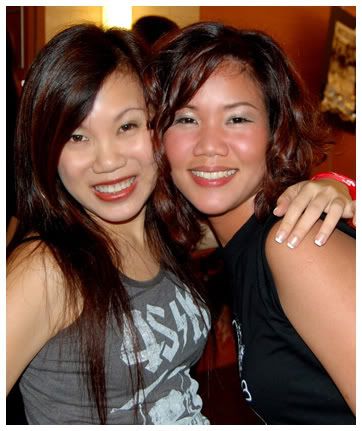 with babe Rachel who's gonna leave us soon..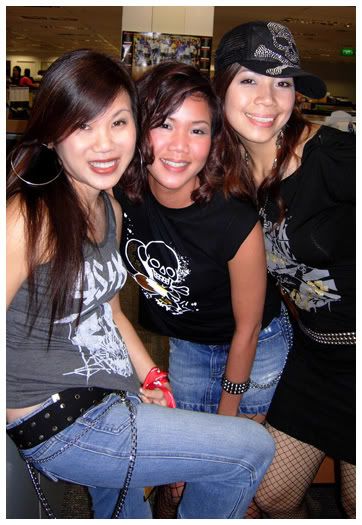 Rachel & Daphne..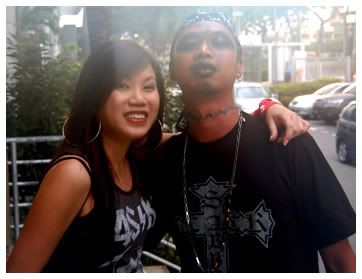 with Sanjay who looks like a cross btwn Bollywood & Kiss gone wrong
He snagged the best dressed male prize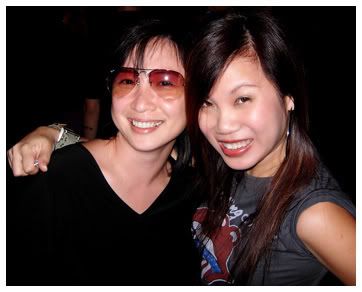 Maureen with her sole prop - the sunglasses :P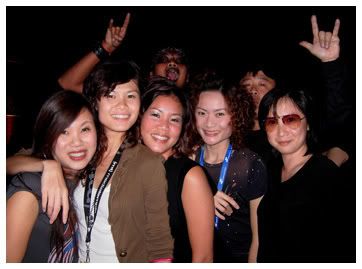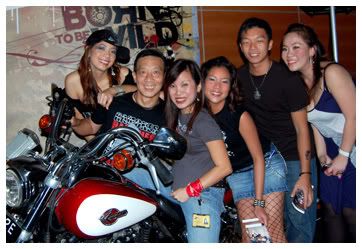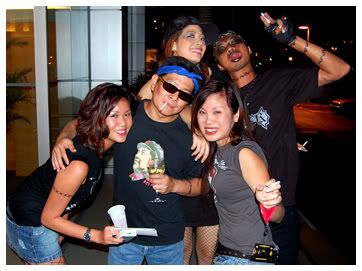 The rest of the party pics with loads of crazy marketing guys here
****************************************
****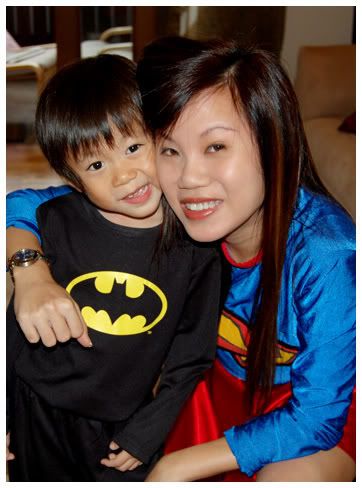 I was awarded the best-dressed mom/adult prize by
Mong at li' Macy's birthday bash which had a "I Can Fly" theme. All, including the parents were supposed to come wearing something befitting that theme. But apart from the parents of the birthday girl and (thankfully)
Trish, who was Mrs Incredible..no other adults were in costume. Kena tricked siah!

Aidan had a choice of Ultraman and Batman (he's been wearing his superman outfit as a pj so it's looking kinda drabby). The boy was delighted when he saw that I was dressed as Supergirl. He insisted on being Batman so that we could be part of the Justice League. Hub claimed that he was in costume too. He said he was going as Clark Kent :P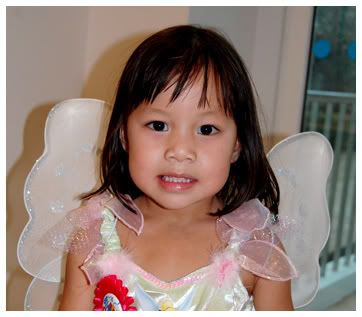 Happy Birthday li' Macy ♥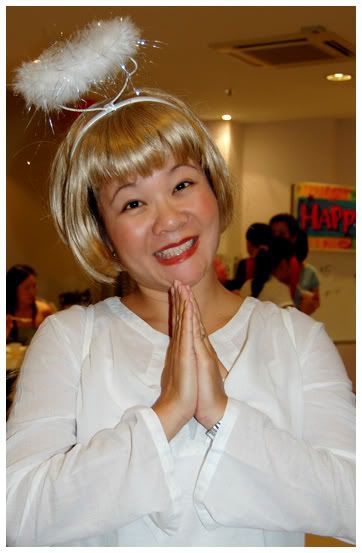 Mong was *coff* an angel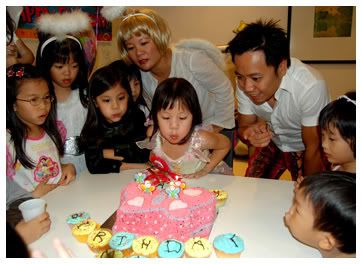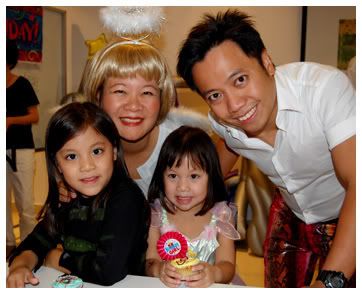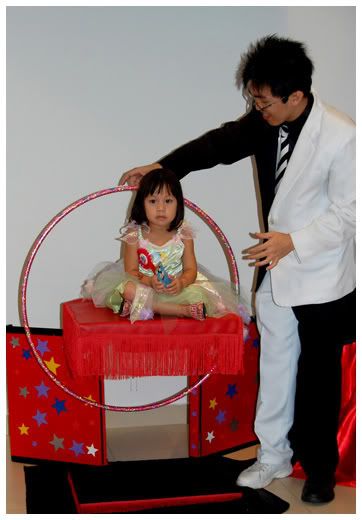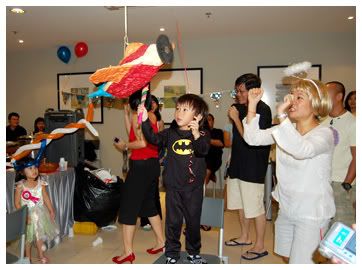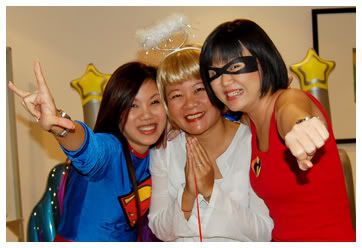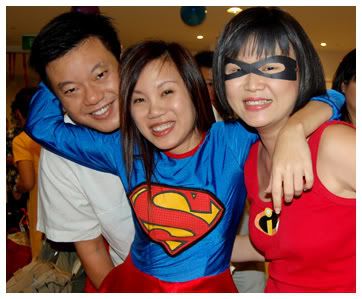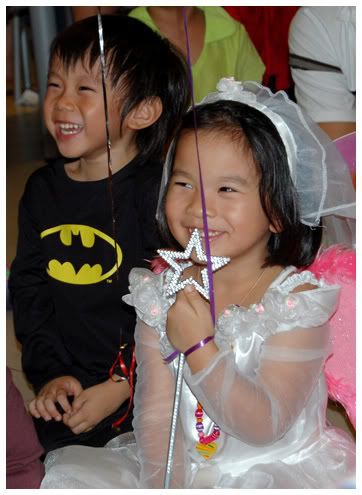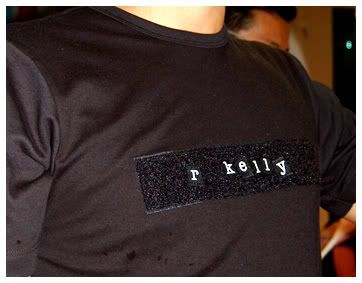 The 'costume' I was most amused with..
Daddy of Emma, Clarence
's tee!
Click here to view the rest of the party pics