Hub was exceptionally nice to me during the weekend that had just passed. To be fair, he's always been good to me but as he won't be in town on my birthday which falls on the 23rd, he said he would like to celebrate it earlier. Our good pal Trevor's birthday also falls on July (his birthday is today. Happy Bday Trev!!) so his wife, Bibi and hub decided to make it a joint-birthday celebration. He picked Graze at Rochester as the restaurant of choice. I'd told him a while back that I would love to check out the joint after reading some glowing reviews of the place on some of the blogs. He remembered :)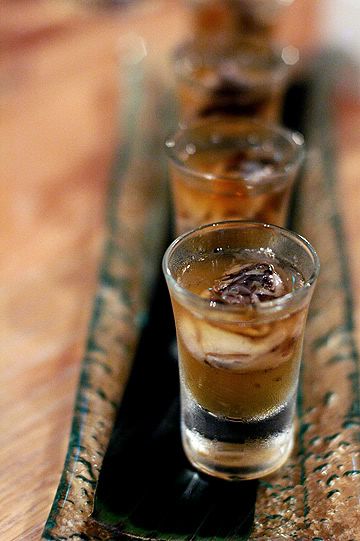 The really delicious oyster shooters (pic taken from chubbyhubby)


What I had ..the hand-rolled pork hock!


Generally, the reviews for Graze were mixed. There were many who waxed lyrical about the food & service yet there are just as many who found it over-rated. I loved the place! The restaurant was lovely..wonderful atmosphere & ambience especially the al fresco area.I can't do food review for nuts so I won't write much abt the cuisine but I have to say that I really enjoyed my meal. We started with the very yummy ginger & vodka oyster shooters and the clams in white wine! The waitress strongly recommended their signature hand-rolled pork hock so I went with that and I wasn't disappointed! It was crispy on the outside and wonderfully tender on the inside. But Corrina's fish dish was rather dry and hub said his lobster tortellini was only so-so. And I have to add that the service staff was great especially our waiter, Phil who'd attended to the kids table.

Oh yes, the kids came. All of 5 of them. Yah,very noisy and messy! They sat at a separate table next to ours with the helpers. I pitied the couple who sat next to their table although they were probably thankful that they had already finished their main course when we arrived.They quicky scoffed down their dessert and chaboked..to a much quieter place I'm sure. Phil, the waiter was really patient with the kids. When the kids starting eyeing the strawberries in the icewater decanter, he took out the strawberries and placed the fruit into the children's water cups! His food recommendation for the kids was great ..making sure that the food was just enough and not too spicy! After the kids were done with their food, he and another waitress actually volunteered to bring them to the bar area upstairs (which was unoccupied) so that they could run around and play and the adults could eat in peace.

Would definitely go back again..probably for brunch!

Thanks to hub for the wonderful dinner..
Had a great time with family and great pals! :)♥♥♥
alamak, see how co-operative our kids are..
the girls & their mommies..
my 2 favourite boys!
Sharing the birthday cake with Trevor who turns 37 today!
Li' Lianne with Chloe & Aidan
That's Phil,the waiter playing with Aidan
Achieving the impossible..group pic!

More pics here

**************************************


Added more bags to my collection! Woke up early on Saturday morning..not for work but for the Be-A-Fashionista Bag Bash at Swissotel. It was their 2nd bag fash and I must say that the collection this time round was much better!

Prada Napa Gauffre Antik Hobo in Noce & Balenciaga "City" in white


I ended up getting 2 bags. Hub has generously 'sponsored' the bags since he was still at a loss of what to get me for my birthday! He said that i'd already gotten most of the stuff I wanted, which is somewhat true. So I told him not to bother getting me anything.. Mong said to ask for jewelry but I'm not really a bling person. But as you know, one can never have enough bags :P Weee~~ I think he's doing it out of guilt as he can't be around during my birthday. But since he offered....

Am really happy to have gotten the Prada! Was actually tail-gating this lady who had like 6 bags attached to her arm..I was guessing that she was still undecided about which bags to get. The minute she'd placed the prada back on the table, I pounced on it. Yah, damn kiasu I know but that was the bag I've been wanting to get since I saw it online. But the Prada Nappa Gauffre line was sold out the minute it hit the stores in Singapore and there isn't even a waitlist for it! About 5 other ladies approached me after that asking me whether I was really going to purchase the bag. Oh man, I sound sooo superficial here! Am definitely turning into an aunty!


********************************************


Rushed down to the Subaru Hub after I purchased the bags to help out my colleague with the New Face auditions! The initial opinion was that this year's girls aren't that strong although there were some obvious frontrunners. But when I was perusing thru the pics I took of the girls, I changed my mind. This year's girls are quite tall with majority of them over 1.68m and some of them are quite stunning looking. But there were a few girls, whom I thought shouldn't have made it to the top 24 but I'm no beauty pageant judge :P



What do you think?


The most recognisable girl is probably Natalie (front left) who is suitcase 3 from Deal or No Deal and she's also in the current Mastercard ad campaign. My personal fave is the girl who's next to Natalie. She's really pretty!


with 2 of last year's New Face girls,Emileen, Peggy, Wee Teck & Daniel Boey!
More pics here